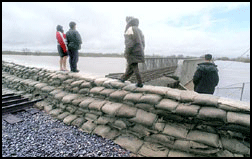 Aqua Restoration Supplements some of the Los Angeles Fire Departments with empty sandbags next to their sand piles. If there are no sandbags next to your local Fire Stations sand pile,
please call our TOLL FREE number 1-800-201-8103 for a delivery of new sandbags.
Did You Know That Most Insurance Policies Exclude Flooding?
Most homeowners and commercial insurance policies exclude flood coverage. However you can get federal government flood insurance coverage for your home or business through your local insurance agent for, in over 18,000 community that participate in the National Flood Insurance Program.
Coverage also includes up to $750.00 for reasonable expenses incurred to protect your building from the imminent danger of a flood, such as sandbagging.
[ Structure De-flooding ] [ Corporation History ] [ Microbial Remediation ] [ Fungi Information ]
[ Structure Drying ] [ Unsanitary Loss ] [ Sandbags ] [ Home ]
Web spinner: Marshall Sigmon and others
Copyright © 1997-2014 [C.R.S., Inc.]. All rights reserved.
Revised: April 30,2014 .